From the monthly archives: "August 2011"
Gray and I have had quite the breastfeeding journey. With how early he was they had no expectation that he would even know how to suck, especially nurse.
I remember the first time they let us try. He was about 2 days old, and
since he was doing so well, they thought they would let him try nursing, at least to see where we were starting so we knew where we had to get to. He was a natural! He would latch great and have a few good sucks and then come off.  Not bad for a preemie, and a 2 day old. But then we had our share of setbacks and it was another 3 weeks before we were allowed to nurse again. I completely understand the doctor's decision, it takes a lot of energy to teach him how to nurse, and he didn't have a lot of energy to waste.

So when we were allowed to start nursing again, it was every 3rd feeding. He was still getting 100% breastmilk – I was just attached to a pump every 3 hours and he was fed through an NG tube. The first feedings were a bit of a battle. He didn't want to latch, or if he did he didn't really want to work at eating. So we would end up giving him most of his feeding through the tube again. We spent a lot of time doing skin to skin, or kangaroo care – whichever you like to call it.
And then on February 22nd he finally got it. And not only did he figure it out again, he took more than he needed to! We would always weigh him to see how much he was taking, and he took about 11ml more than he needed to, almost half an ounce. One of our favourite nurses Seena was across the hall in another pod and heard that our little man was a 'piggy cheeks'  and came over to see how he was doing.  She was amazed and so happy that we were finally back on track. She's the nurse that was there the day that we had to stop nursing 3 weeks before and you could tell she was sad for us that day. I'm so happy that she got to share our joy that day.
I think I'll remember February 22nd as a great day. February 21st, not so much, but February 22nd was a great day for Gray and I. And during the hard days now, I just remember what it was like before that, and these days don't look so bad.
Gray is almost 7 months old! Just thinking about the fact that 6 months ago he was just starting to nurse, and now he's a champ. Makes all the hard work at the beginning worth it!
Have a bfing celebration to share? Make sure you link up to the BFing blog hop over on LifewithLevi's blog.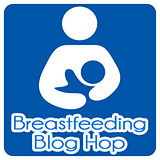 I have nursed Gray in a few unique places in the last bit. While on vacation Gray ate on a ferry, two different speed boats, multiple times on both boats. He ate at his great Aunt Elizabeth's dinner table with us, and on a dock watching the sunrise.
We added another place to the list of public or odd places Grayson has eaten; the Jay's baseball game in Toronto.
A few weeks ago we headed to the Jay's game to take G to his first baseball game. It also happened to be Robbie Alomar day. RA was one of Brian's favourite baseball players as a child, so it was nice for this game to be his first game.
  
Brian and I had discussed it as on a whim on Saturday night – more of a ha ha we should do this. And when we were on our way to church on Sunday morning we decided that depending on how well G did in the morning, we would decide after church and possibly go.
We figured we would grab scalpers tickets. So after church we came home, I fed Gray and Brian packed up the car, and we headed off to Toronto.
We ended up not being able to get scalpers tickets, or any tickets. We were however able to sit in the buffet restaurant, more money than we had thought we would be spending, but we got fed, and we got some great seats in the shade. 
Well you can imagine that between the drive to Toronto and the span of a baseball game, Gray got hungry. So there we were in a stadium fill of over 35, 000 people and I had to nurse my son. I have whipped it out in the NICU hundreds of times, and at church in the nursing mom's room with all the other moms, but not in front of 35 thousand people. Now I don't whip it out, not like the woman in the waiting room after G's little boy surgery 
(that's a whole different story), I use my nursing cover. Not sure if that hinders our quest to make breastfeeding more normal and acceptable, but for me it's what I'm comfortable with. I got a few odd looks, especially from the male servers in the restaurant, but to be honest, I think they were happy that he wasn't upset anymore. I got a few odd looks from a some women, most of them not mothers I'm guessing.
I'm getting much more comfortable nursing in public, still not 100% natural yet but I'll get there. Can't wait for our next NIP moment; I'll be sure to blog it.